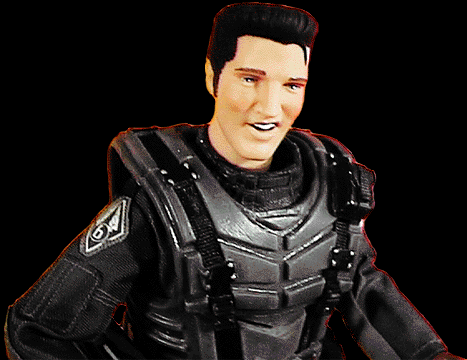 "... I felt the Hopper's wing slice through my head, and for a moment, I saw my body standing there. Then the King appeared in a flash of light. He said 'Don't worry baby, let me sing you a song'..."
- Unknown Trooper, Whiskey Outpost
Roughneck Joe© (2.0) : Custom Action Figures
The original Roughneck Joe was made over seven years ago, solely as entertainment, to fulfill a personal need for better Starship Troopers toys. In 1997, decent toys just weren't available. The original "Johnny" figure was so well received that a few were made for friends and other collectors. Twenty complete figures were assembled over the following year, and all have been reassigned to happy homes around the globe. Roughneck Joe is the ultimate collectible for any Starship Troopers fan, and my continued passion! This year we finally see Armor and Accessory Kits available, for you to assemble and finish into your own squad of Mobile Infantry figures.

I have personally taken on the obsessive task in recreating as many of the main cast of characters as possible. It has been a labor of love for several years, but finally, the Roughneck Joe family is growing. Various characters, kits and accessories are .

1/6-Scale Action Figures

25mm - 28mm - 30mm Miniatures
Figures - Vehicles - Terrain



- -> Back to the Starship Troopers Main Index <- -

Free counters provided by Honesty Communications.
Copyright © 1998~2006 David Ramsay, All rights reserved.
All other trademarks and copyrights are the property of their respective owners.


"Roughneck Joe" and "S.S.T.3.D-Original" © Copyright David Ramsay 1997~2006.
"Kraftsprunganzug (Powerful Jumping-Suit)", "101st PACkeRs (101st Powered Armor Combat Ready Division)",
"Terra PAWS" and the "Terra PAWS Logo" © Copyright David Ramsay 2000~2006.
All rights reserved.
No infringement is intended or desired.
No images or text may be captured, copied, reproduced or used without permission.
All images and information contained herein are Copyright their respective owners.
The contents of these pages, is Copyrighted by TrooperPX, as an artistic expression.
This is fan web-site and is intended solely to promote everything Starship Troopers.



My e-mail forwarding has been down, but now it is back up. (12/24/05)