Roughneck Joe© Other 1/6-scale customizers.
Please visit these other 1/6-scale customizers:

Customized figures and mecha from Pooyan Toys.
http://pooyantoys.com/safs1.htm

Using a Cy-Girl from BBI and the 2000 S.A.F.S. Ma.K. from Nitto.

Using another Cy-Girl from BBI and the 2001 Fireball Ma.K. Nitto.
---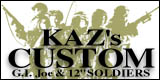 Custom 1/6-scale figures by KAZ's Custom:
http://www.ne.jp/asahi/kaz/custom/INDEX.htm




Kaz has taken existing figures, and improved them... and their gear.
---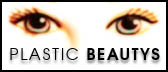 Custom 1/6-scale female figures by Plastic Beautys:
http://www03.u-page.so-net.ne.jp/wc4/wide/BEAUTYS/MAIN.htm




Some very nice and lovely figures...
---


Custom German military 1/6-scale figures by Peiper:
http://www5c.biglobe.ne.jp/~PEIPER/



While yes, this is a controversial subject matter, you have to agree his craftsmanship is superb...
---


Custom 1/6-scale figures by Out Land:
http://www2.tokai.or.jp/masahiro/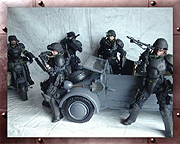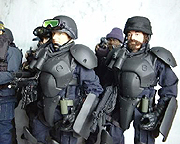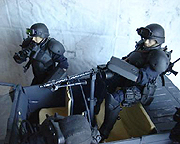 Call it Keribitos Panzer Cop or Jin Roh, the armor is cool. Here he has outfitted a whole squad!


http://www.members.aol.com/M56SG/uscm.html
| | | |
| --- | --- | --- |
| | The USCM from Aliens never looked so good! | |
Back to Roughneck Joe Production History

Free counters provided by Honesty.com.

Copyright © 1998~2004 David Ramsay, All rights reserved.
All other trademarks and copyrights are the property of their respective owners.


"Roughneck Joe" and "S.S.T.3.D-Original" © Copyright David Ramsay 1997~2004.
All rights reserved.
No infringement is intended or desired.
No images or text may be captured, copied, reproduced or used with out permission.
All images and information contained herein are Copyright their respective owners.
The contents of these pages, is Copyrighted by TrooperPX, as an artistic expression.
This is fan web-site and is intended solely to promote everything Starship Troopers.