Roughneck Joe© Weapon: MK-55 Tactical Nuke Launcher

---
Rocket (H) weapon
Large area shock
High incineration effect
Deadly assessment
Intel Brief: The MK55 Tactical Nuclear Launcher is a handheld, shoulder-fired projectile launcher.
Usage: Upon the launch, special scanner with will report you back your current distance from the projectile, and warn you when you are in the range, with a distinctive sound signal. It will also warn you if a detonation was detected, and alert you if you are in the heat wave zone.
---
Please forgive the volume of images... This is just such a beautiful sculpt, and it finished so well,
I simply had to photograph it from every angle possible. And since images are so hard to come by,
I hope this will really help out the programmers for the video game mods.
Here is the Nuke Launcher. It comes with a wider shoulder strap, just like the
film-used prop! The siting assembly consists of a 3-piece, fold-out scope.
During filming, they never used the scope properly. They believed it
was too distracting, and slowed "the moment". Too bad, it was cool.
The launcher... armed with an active Nuke.
(MN-3 Nuclear Warhead with MR-7 Rocket Engine)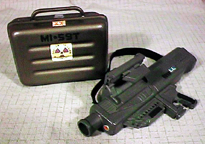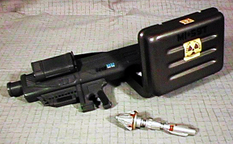 Here is one version of the projectile carrying case. Click HERE for more pics of the actual nuke.

---
Back to Roughneck Joe Production History

Free counters provided by Honesty.com.

Copyright © 1998~2004 David Ramsay, All rights reserved.
All other trademarks and copyrights are the property of their respective owners.


"Roughneck Joe" and "S.S.T.3.D-Original" © Copyright David Ramsay 1997~2004.
All rights reserved.
No infringement is intended or desired.
No images or text may be captured, copied, reproduced or used with out permission.
All images and information contained herein are Copyright their respective owners.
The contents of these pages, is Copyrighted by TrooperPX, as an artistic expression.
This is fan web-site and is intended solely to promote everything Starship Troopers.