Roughneck Joe© Stowage: Nukes and Case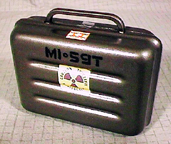 Here is one version of the projectile carrying case. It comes with three, 2-piece nukes, just like the original! A "radioactive" label seemed more appropriate. The next one will have a "flammable" one like the film-used prop. It has a hinged lid and four little feet to help it stand upright. Note the spring-arm to keep the case open!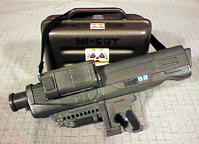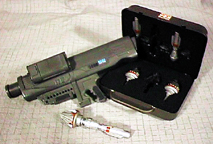 Everything you need to eradicate really-big-bugs.
> More Images Coming Soon <
Including: Hyper Focus-Super Detail
---
Back to Roughneck Joe Production History

Free counters provided by Honesty.com.

Copyright © 1998~2004 David Ramsay, All rights reserved.
All other trademarks and copyrights are the property of their respective owners.


"Roughneck Joe" and "S.S.T.3.D-Original" © Copyright David Ramsay 1997~2004.
All rights reserved.
No infringement is intended or desired.
No images or text may be captured, copied, reproduced or used with out permission.
All images and information contained herein are Copyright their respective owners.
The contents of these pages, is Copyrighted by TrooperPX, as an artistic expression.
This is fan web-site and is intended solely to promote everything Starship Troopers.