Roughneck Joe© Equipment: Field PADD

Introducing the Roughneck Joe Field PADD.


Here is the Field PADD as held by ***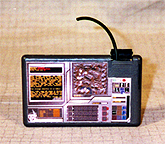 The Mobile Infantry Field PADD. This version of the personal access
display device is for field use. Designed to consolidate battle and other tactical
information quickly and efficiently, through a display of natural progression. Equipped
with an extendable, flexible antenna, data can be transmitted from almost any location.
---
Back to Roughneck Joe Production History

Free counters provided by Honesty.com.

Copyright © 1998~2004 David Ramsay, All rights reserved.
All other trademarks and copyrights are the property of their respective owners.


"Roughneck Joe" and "S.S.T.3.D-Original" © Copyright David Ramsay 1997~2004.
All rights reserved.
No infringement is intended or desired.
No images or text may be captured, copied, reproduced or used with out permission.
All images and information contained herein are Copyright their respective owners.
The contents of these pages, is Copyrighted by TrooperPX, as an artistic expression.
This is fan web-site and is intended solely to promote everything Starship Troopers.