Roughneck Joe© vs. Film-Used Props
These are the

Roughneck Joe 2.0 armor pieces and uniform,
compared to the actual film-used props they were patterned from.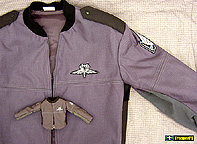 Uniform jacket with fabric patches, epaulettes and forearm guards; pants with padded shins, pleated knees and back padding.

Solid rubber rations pouch; rubber Morita clip pouch.

Flexible rubber armor yoke with working miniature buckles; armor belly and back.

MX-90 grenades, with red plunger; grenade with black plunger.

Uniform boots with molded strap, buckle and tread details; fabric detailed back.
For more details and images, visit the individual pages!.
---
Back to Roughneck Joe Production History

Free counters provided by Honesty.com.

Copyright © 1998~2004 David Ramsay, All rights reserved.
All other trademarks and copyrights are the property of their respective owners.


"Roughneck Joe" and "S.S.T.3.D-Original" © Copyright David Ramsay 1997~2004.
All rights reserved.
No infringement is intended or desired.
No images or text may be captured, copied, reproduced or used with out permission.
All images and information contained herein are Copyright their respective owners.
The contents of these pages, is Copyrighted by TrooperPX, as an artistic expression.
This is fan web-site and is intended solely to promote everything Starship Troopers.