Roughneck Joe© Weapon: Tonshi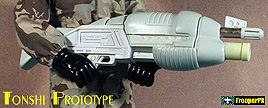 Here is the Tonshi, Tereshkova Forces' Microwave Accelerated Particle Rifle "advanced Morita" from the end of the film.
Heavy Weapon Equipment
Tereshkova Advanced Morita, the Tonshi
Tereshkova Forces' Microwave Accelerated Particle Rifle, the MAP-R "Tonshi"



Two images from the film, one with the curves enhanced. This is the only reference Angela Portman had to design the prototype.

As the prototype was being finished, we had the good fortune of getting a pic of the "back-up" cast from the original film mold. Way cool! This allowed some extra details to be added to this already superb sculpt.
---
Back to Roughneck Joe Production History

Free counters provided by Honesty.com.

Copyright © 1998~2005 David Ramsay, All rights reserved.
All other trademarks and copyrights are the property of their respective owners.


"Roughneck Joe" and "S.S.T.3.D-Original" © Copyright David Ramsay 1997~2005.
All rights reserved.
No infringement is intended or desired.
No images or text may be captured, copied, reproduced or used with out permission.
All images and information contained herein are Copyright their respective owners.
The contents of these pages, is Copyrighted by TrooperPX, as an artistic expression.
This is fan web-site and is intended solely to promote everything Starship Troopers.