Roughneck Joe© Mobile Infantry "Desert Trooper"
(... and Diorama)
RNJ-SST
Continuing the legacy Roughneck Joe, a project originally started back in 1997 shortly after the movie Starship
Troopers came out. Here is my patriotic homage to our Armed Services stationed overseas. This "Desert Trooper" is sporting the new desert camo BDUs that were issued to our forces in the late 90's.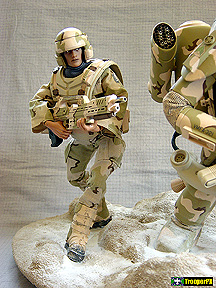 Our Trooper takes up a flanking position...

Note the desert camo on everything from the helmet to the Morita.
---
Desert Trooper Diorama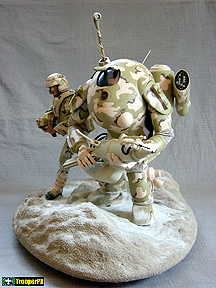 The base was designed to fit within this Nike display...

For more info, visit the full-page HERE.



A three-piece skid plate is mounted to the front, to guard the hover jet bells. The zimerit now covers what it needs to... textured paint will do the rest. Final bits have been placed in logical locations, lending to future "cool sounding" explanations.

A view of the engine/reactor compartment. Four bands of Cool Neon pulse downward (al-la ST:NG), with the fifth "beat" on the red coil. ...just a little soem'n-some'n for those who look inside.

Several views of the main guns in place. Final shots of the turret, with close-ups of the copula ring and turret core.
---
Back to Roughneck Joe Production History

Free counters provided by Honesty Communications.
Copyright © 1998~2004 David Ramsay, All rights reserved.
All other trademarks and copyrights are the property of their respective owners.


"Roughneck Joe" and "S.S.T.3.D-Original" © Copyright David Ramsay 1997~2004.
All rights reserved.
No infringement is intended or desired.
No images or text may be captured, copied, reproduced or used with out permission.
All images and information contained herein are Copyright their respective owners.
The contents of these pages, is Copyrighted by TrooperPX, as an artistic expression.
This is fan web-site and is intended solely to promote everything Starship Troopers.