Roughneck Joe© Weapon: PLPD

Roughneck Joe Proximity Laser Perimeter Defense system.


The Proximity Laser's turret is equipped with alternating sensors and emitters to cover a 360&Mac251; area.
Evenly spaced, they provide a defensive perimeter and effective early warning to approaching Arachnids.




The Proximity Laser in stored mode and deployed.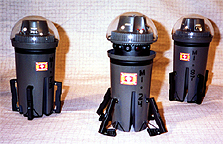 To deploy, the unit is lifted up so the legs can extend and lock into place. After which
the Laser turret assembly raises to its standby position.
> More Images Coming Soon <
Including: Hyper Focus-Super Detail
---
Back to Roughneck Joe Production History

Free counters provided by Honesty.com.

Copyright © 1998~2004 David Ramsay, All rights reserved.
All other trademarks and copyrights are the property of their respective owners.


"Roughneck Joe" and "S.S.T.3.D-Original" © Copyright David Ramsay 1997~2004.
All rights reserved.
No infringement is intended or desired.
No images or text may be captured, copied, reproduced or used with out permission.
All images and information contained herein are Copyright their respective owners.
The contents of these pages, is Copyrighted by TrooperPX, as an artistic expression.
This is fan web-site and is intended solely to promote everything Starship Troopers.