Roughneck Joe© How to customize every-day objects.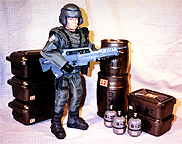 Props created and modified from the real world.
| | |
| --- | --- |
| Cool looking Japanese snack bins. | CC-9126 Individual Unit Stowage. |
| Brita water filter with 60mm clear-ball cover, glass-head pins and Gillette (2001 style) disposable razor covers. | Proximity Laser Perimeter Defense. |
| Japanese candy (toy/prize) capsules with brass gas-pipe fitting, pushpin and tailors pins. | Thermal Bomb Type-IV. |
| Japanese travel sewing kit and custom printed graphics. | Local PADD used at Camp Curie. |
| Vacuform case shape (buck), plastic "handle" and "feet". Foam interior, carved to hold Nuke warheads and rockets. | Case for N2 Nuclear Projectile. |
| | |
Roughneck Joe© vs. Film-Used Props
Roughneck Joe 2.0 armor pieces and uniform, compared
to the actual film-used props they were patterned from.
Back to Roughneck Joe Production History

Free counters provided by Honesty.com.

Copyright © 1998~2004 David Ramsay, All rights reserved.
All other trademarks and copyrights are the property of their respective owners.


"Roughneck Joe" and "S.S.T.3.D-Original" © Copyright David Ramsay 1997~2004.
All rights reserved.
No infringement is intended or desired.
No images or text may be captured, copied, reproduced or used with out permission.
All images and information contained herein are Copyright their respective owners.
The contents of these pages, is Copyrighted by TrooperPX, as an artistic expression.
This is fan web-site and is intended solely to promote everything Starship Troopers.