Roughneck Joe© How to customize every-day objects.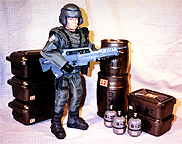 Props created and modified from the real world.

Tin coin-banks.
small


GM-7203 Potable and Edible Storage.


Tin coin-banks.
large


GM-7203-A Potable and Edible Storage.


Japanese snack/lunch bins.


CC-9084 Configurable Stowage System.


Japanese breath-mint dispenser.


Field PADD.


Japanese lunch/school bins, stackable parts cups and military surplus flare parachute.


CC-9091 Low Orbit Delivery System for Supplies.


Stealth Tent.


Picnic food cover, Sharpie pen cap and M&M Mini's container.


CC-9342 Stealth Tent Stowage.
Roughneck Joe© vs. Film-Used Props
Roughneck Joe 2.0 armor pieces and uniform, compared
to the actual film-used props they were patterned from.
Back to Roughneck Joe Production History

Free counters provided by Honesty.com.

Copyright © 1998~2004 David Ramsay, All rights reserved.
All other trademarks and copyrights are the property of their respective owners.


"Roughneck Joe" and "S.S.T.3.D-Original" © Copyright David Ramsay 1997~2004.
All rights reserved.
No infringement is intended or desired.
No images or text may be captured, copied, reproduced or used with out permission.
All images and information contained herein are Copyright their respective owners.
The contents of these pages, is Copyrighted by TrooperPX, as an artistic expression.
This is fan web-site and is intended solely to promote everything Starship Troopers.